2nd Annual OPEN MINDS, OPEN SPACES 
ELEVATE AFTERSCHOOL
2nd Annual Open Minds, Open Spaces will be held on October 21-22, 2021. Register now! 
Afterschool professionals are working around-the-clock to support youth, families and our staff. We are focused on elevating safety and well-being, engaging learning, health and wellness, and family supports. We are flexible, resilient, nimble, clever and powerful. Afterschool professionals are committed to our work lifting up young people, families, and communities. In October we convene virtually to learn, collaborate and connect together.
Open Minds, Open Spaces is presented by these networks in the 50 State Afterschool Network supported by the Charles Stewart Mott Foundation: Arizona Center for Afterschool Excellence, Colorado Afterschool Partnership, Hawai'i Afterschool Alliance, Montana Afterschool Alliance, Nevada Afterschool Network, Oregon ASK, Utah Afterschool Network, and Wyoming Afterschool Alliance.
Register Today 
Engage with Open Minds, Open Spaces on Social Media
Visit the Open Minds, Open Spaces Webpage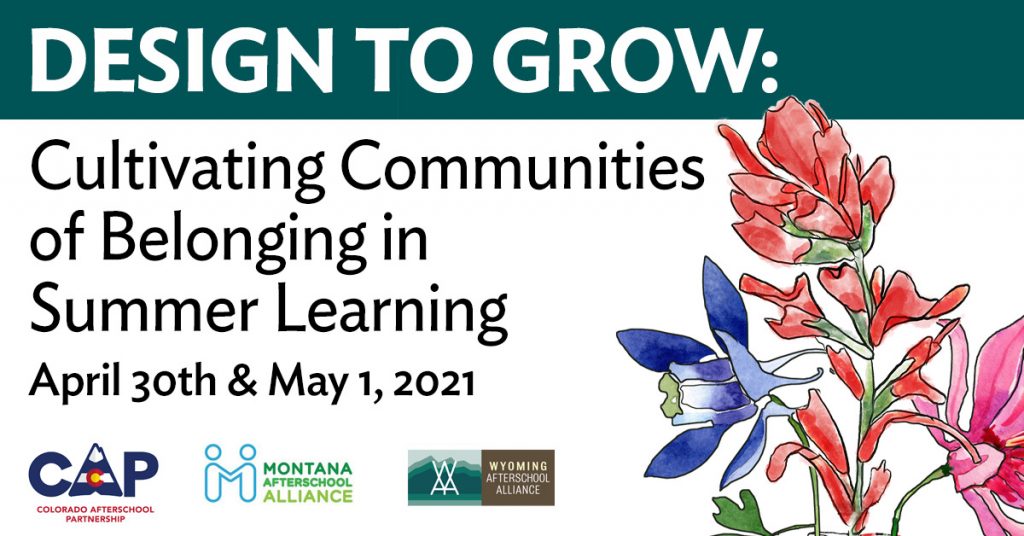 2nd Annual DESIGN TO GROW
SAVE THE DATE: MARCH 1-2, 2022
Summer provides an important opportunity for educators, youth professionals and communities to work together to cultivate communities of belonging that provide rich learning experiences for young people. High quality programs support skill development and foster meaningful relationships with other youth and adults – as children and families transition to a post-pandemic world, these experiences are more important than ever. Design to Grow is a two-day intensive to provide pragmatic strategies to incorporate Social Emotional Learning into your plans and connect with content experts to think about how you apply that knowledge in exciting summer programming. 
Mission: The Wyoming Afterschool Alliance is a statewide network working to create the conditions for young people to reach their full potential. We are a priority fund of the Wyoming Community Foundation.