Afterschool Backpack 2023

What do you need in Your Backpack?
Fill Your Backpack with Tools to Help Cultivate Connections with Young People 
Did you know that young people spend 80% of their time out of school? That's a lot of time! With true collaboration among afterschool programs, schools, and community partners, we can meet the needs of kids and families today—and forge a new future where every child is cared for, included, educated, and inspired.  
How can adults help young people thrive? Many adults, even afterschool professionals, could use new tools to help them cultivate connections. We've been hearing from afterschool program providers and other educators across Wyoming. We're here to help you fill your backpack with the tools that really work. 

For Communities, Programs, and Families: WYAA Tips & Conversation Starters for Teenagers
While the teenage years often get a bad rap, this is a deeply formative time for young people. The experiences they have—especially ones that are hands on and in authentic relationships with adults— really do change their brains!
The quality of a child's early childhood years (pre-birth through the age of five) is considered a sensitive period and sets the foundation for children's long-term health. Adolescence is considered a second sensitive period and is equally important to young people's growth and development but in different ways.
Learn more in WYAA's one-pager reference guide with tips and conversation starters.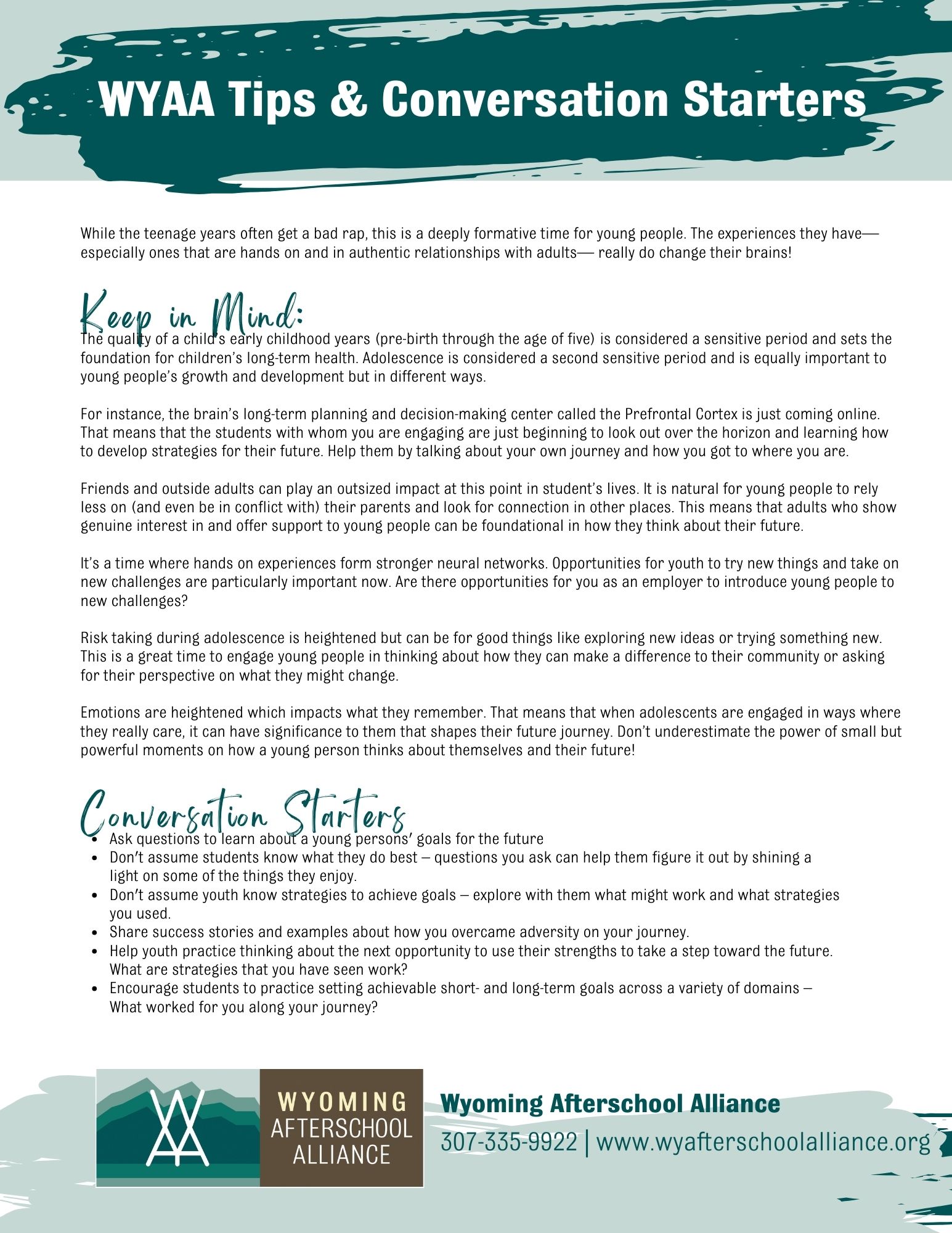 For Businesses: Develop an Internship or Job Program that Helps You Accomplish Your Goals While Supporting Young People in Your Community 
Wyoming employers need access to a well-prepared workforce, and they have a significant role to play in preparing that workforce. You can leverage the power of out of school time to grow talent, increase competitive advantage and support working families.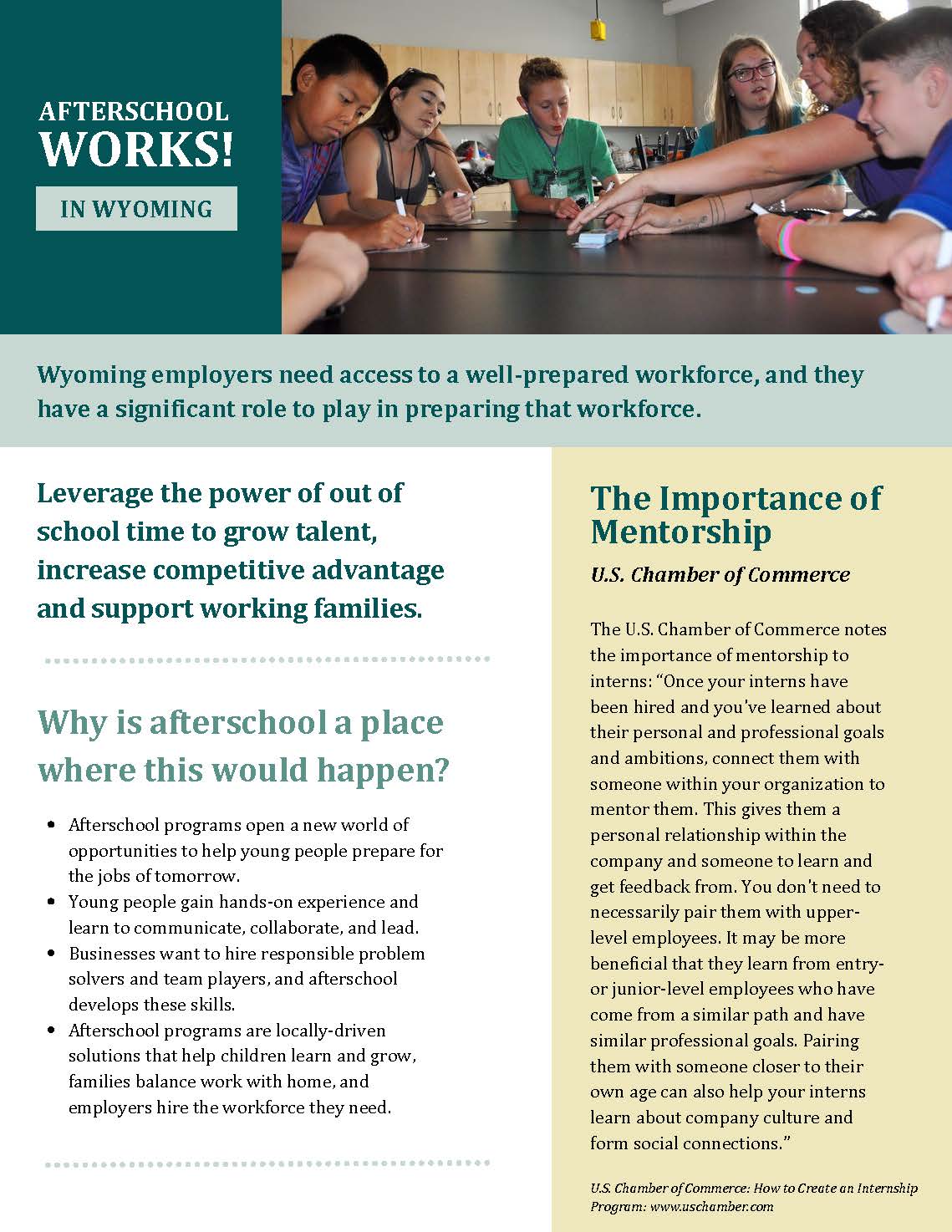 For S

chool District Administrators,

Site Coordinators, Program Providers, Teachers, and Families: The interactive map provides connections at your fingertips!
Find youth serving organizations and other content-specific resources across Wyoming! WYAA's  interactive afterschool map not only provides important information to families and schools, but it also helps identify where more capacity is needed to serve youth. Take some time to explore the listings in your community and be sure to note that we have an update tool!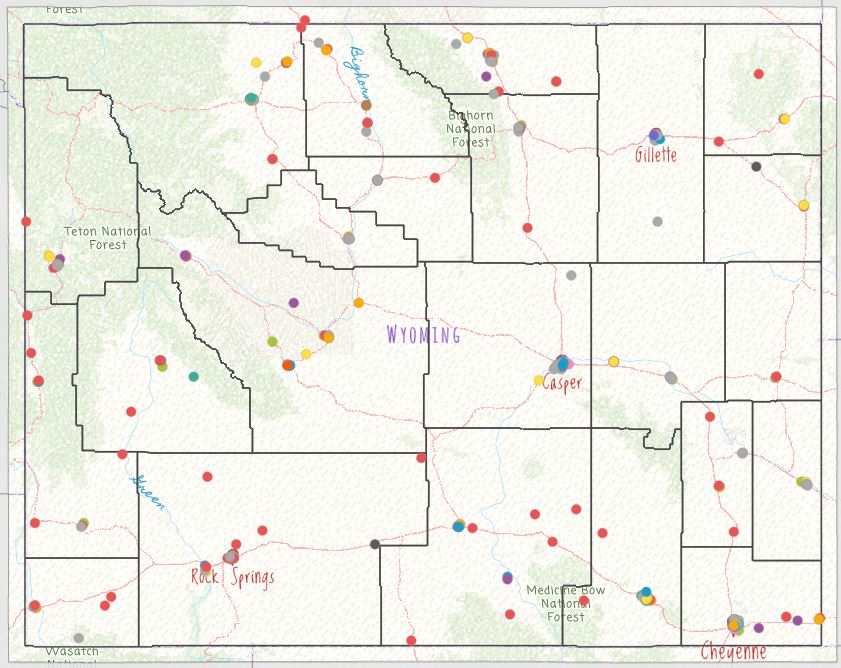 Staffing Tools for Managers: PQPs

set the stage for development of a comprehensive and coordinated system of services that best serve Wyoming's children and youth.
During the back-to-afterschool season, consider checking out WYAA's Program Quality Practices (PQPs). PQPs are research-based guidance that provide a common understanding of the essential components of quality practice in afterschool and youth development programs. The PQPs provide programs, communities, and stakeholders with a way to voluntarily examine the quality of programs and to engage in important discussions about program quality. They are a great way to help create a shared value that demonstrates a commitment to quality, and provides a framework to help you improve your practices over time.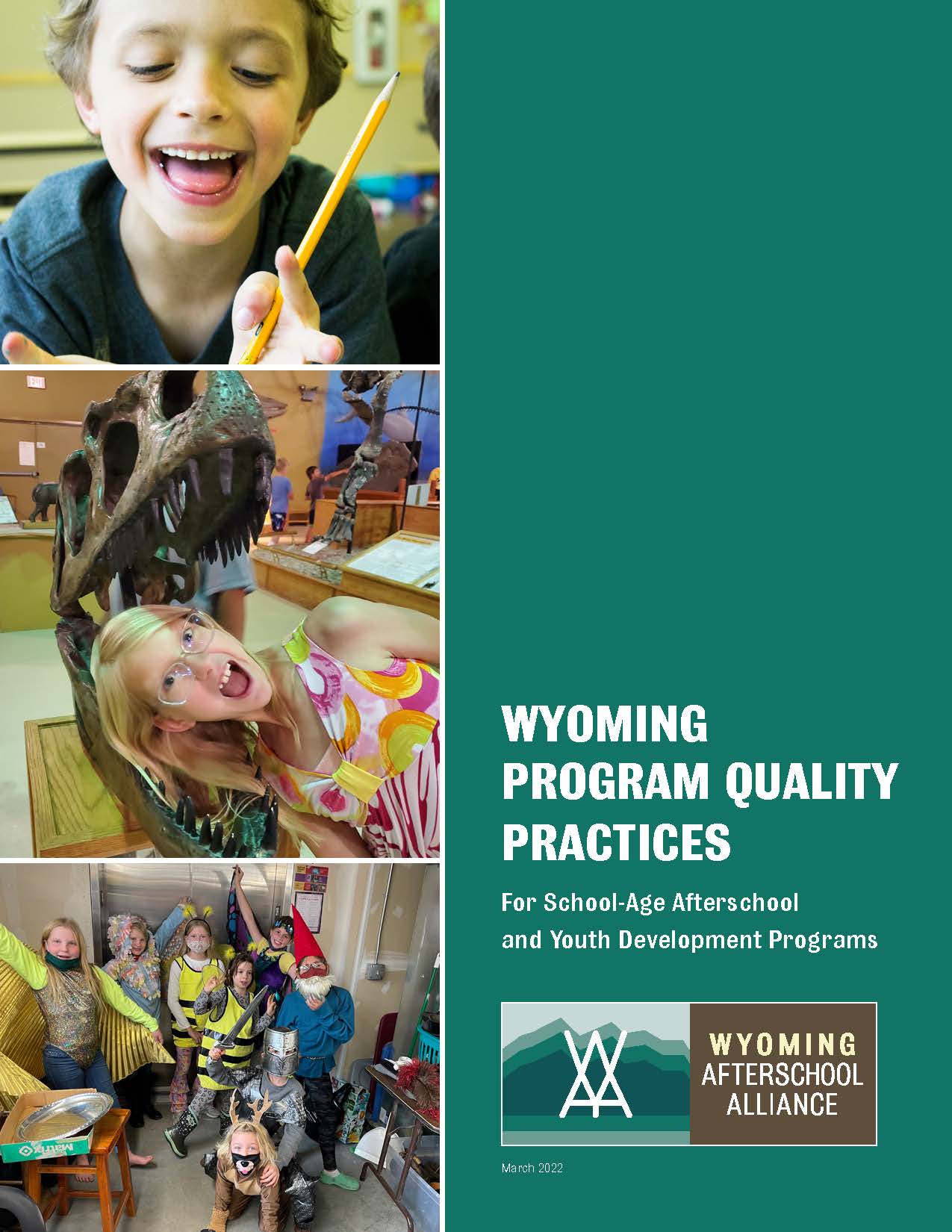 Framework for Programs to Help Find Power Skills:

PEAR Clover Model

Active Engagement, Assertiveness, Belonging, and Reflection: These are the four essential elements that form the Clover Model. Through many years of research and practical experience, Dr. Gil Noam and PEAR have developed the Clover Model. It's called Clover to convey growth, luck, nurturance, and balance. The framework helps us understand human developmental needs. It establishes a common language that can be used to communicate the strengths and challenges of children and youth.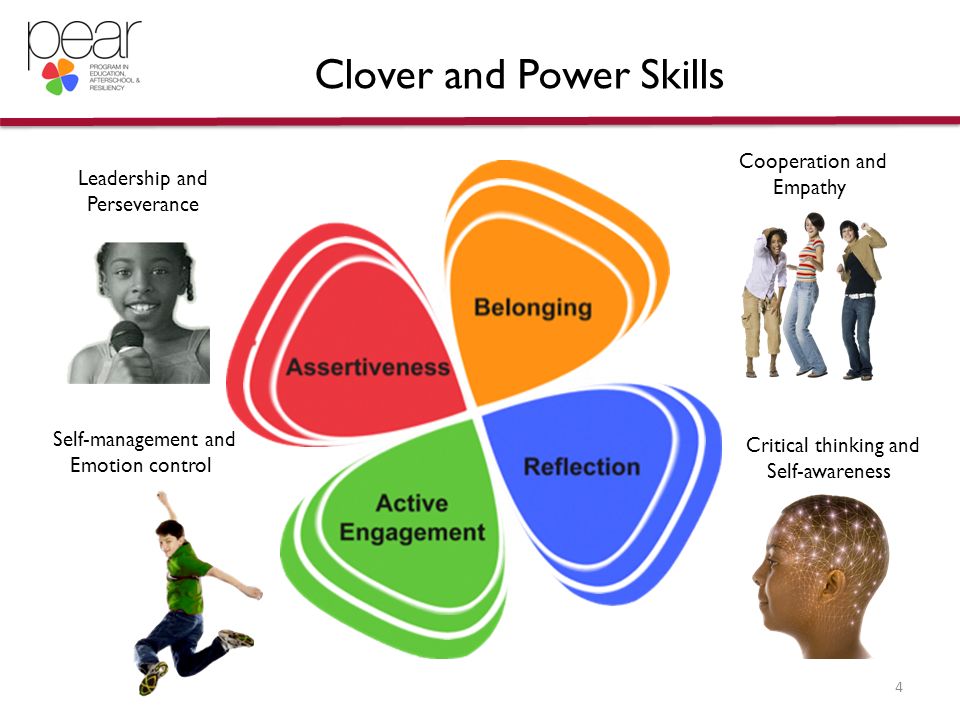 Strategies for Programs to Inspire Young People's Curiosity:

Asking Purposeful Questions

Questions are the beginning of a path towards discovery, imagination, and STEM exploration. We can help youth expand and clarify their thinking and develop their reasoning through the questions we ask them! Asking Purposeful Questions was developed by ACRES, a nationally acclaimed coaching program that builds knowledge and skills so afterschool educators, librarians and anyone who works with youth in out-of-school settings can confidently facilitate Science, Technology, Engineering, and Math (STEM) experiences.

WYAA will be announcing a professional learning cohort coming soon! In the meantime, consider joining an online cohort.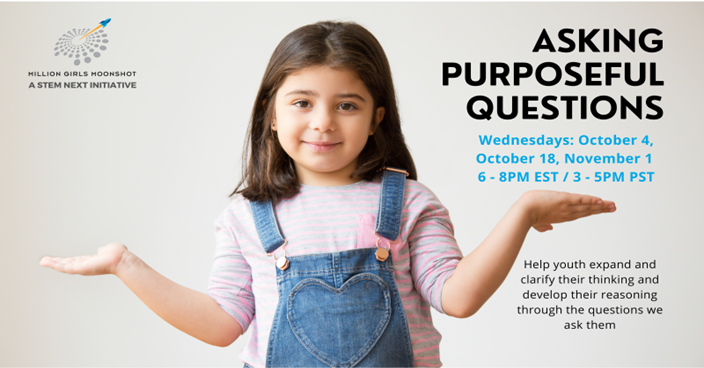 A Multi-Tool for Afterschool Professionals:

Mizzen by Mott is Heading Back to (Afters)School 

Do you need help finding high-quality activities right now? Check out Mizzen by Mott for content to fuel your practice, support your team, and make your program shine. This free app is designed exclusively for afterschool programs. New for back to (after)school, they're featuring exhilarating team-building games and ice-breakers for making new friends and creating a strong foundation for connection and community.  They've also announced Mizzen for Teams that includes a full suite of collaborative features!  

Engagement Tools for Site Coordinators, Program Providers, Teachers, and Families: The Afterschool Alliance is preparing for Lights On Afterschool! Find full toolkits for great ideas for engaging your program and community.
To celebrate the impact of afterschool, join by taking part in Lights On Afterschool on Thursday, October 23, 2023. Afterschool programs are encouraged to customize Lights On in ways that elevate your work: Make plans to host a community-wide open house, take the Lightbulb Challenge, or dream up anything in-between! Take any opportunity you can to highlight that afterschool programs keep kids safe, help working families, and inspire learning. Share what you already know that out of school time opportunities help young people develop into successful adults.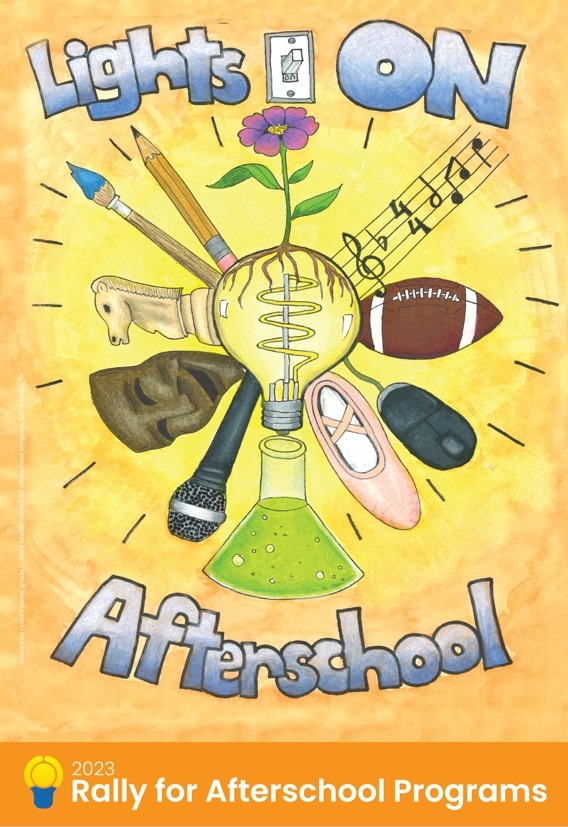 Program Spotlight: Boys & Girls Club of Douglas
Local programs offer unique connections within communities. For example, the Boys and Girls Club of Douglas hosted a family night in conjunction with the Wyoming Hunger Initiative and The Lamb Guys to highlight some tasty ways lamb can be served. Families were treated to a lamb dinner and a quarter lamb to take home. The First Lady of Wyoming, Jennie Gordon, talked about the importance of collaborating with local ranchers like The Lamb Guys to help feed the community. It was followed by games and fun as the community came together to support one another. "It was fun to include the kids and an honor to work with the First Lady." said Shawna Towner, the Food Service Director.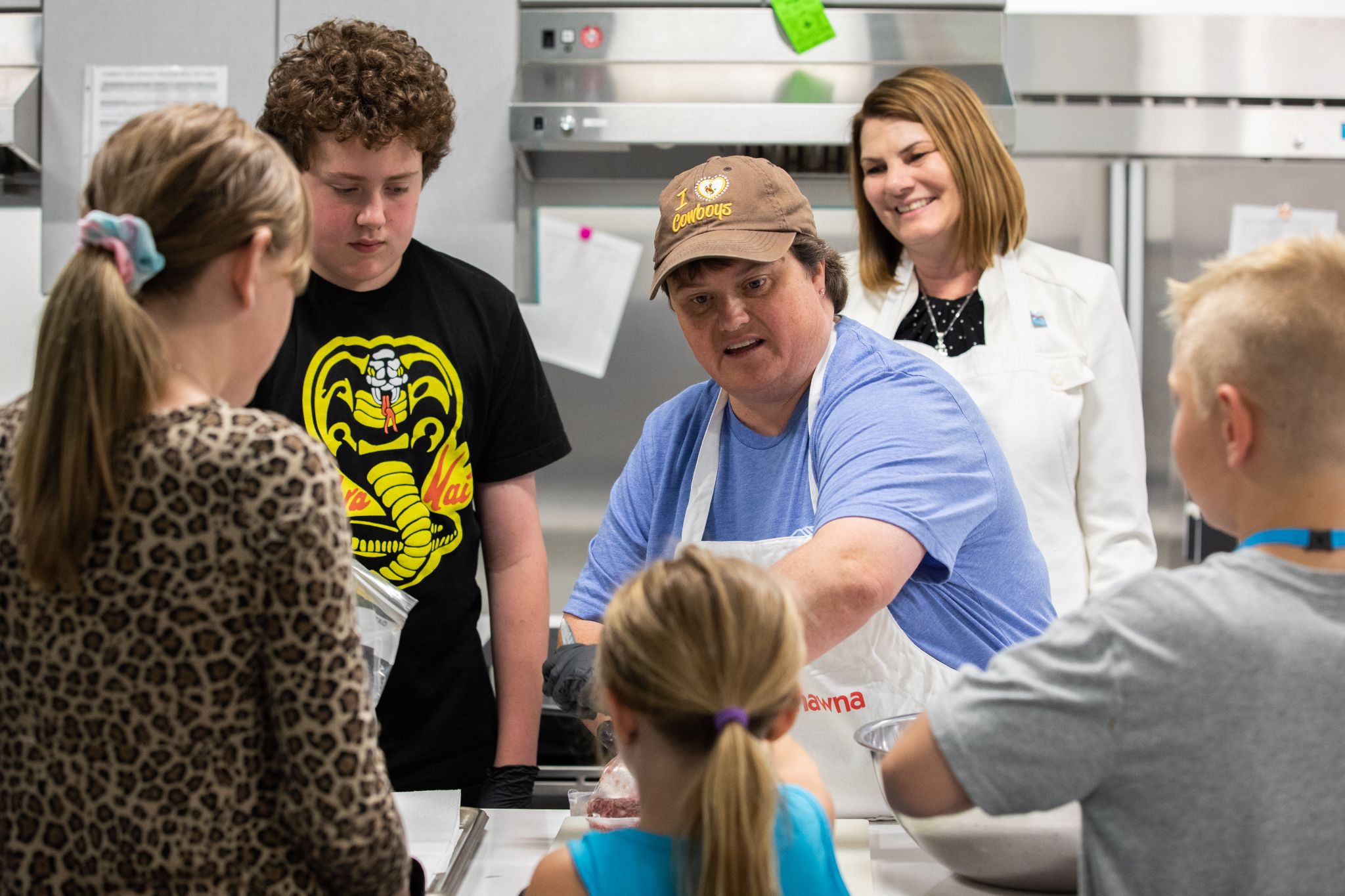 Featured Photo Courtesy of Science Kids | Sarah Flores, Plants and Pollinators Class | www.science-kids.org
Mission: The Wyoming Afterschool Alliance is a statewide network working to create the conditions for young people to reach their full potential. We are a priority fund of the Wyoming Community Foundation.