Lights On Afterschool
Celebrate Thursday, October 26, 2023.
As the nation celebrates the 24th annual Lights On Afterschool, many of the thousands of events held on and around October 26, 2023 will shine a light on the innovative ways afterschool programs support the well-being of young people. Organized by the Afterschool Alliance, Lights On Afterschool is the only national rally for afterschool programs, which keep kids safe and healthy, inspire them to learn, and give working parents peace of mind.
"From building connections to peers and mentors, to serving healthy snacks and meals, to helping young people handle anxiety, to inspiring students to move and get fit, afterschool programs across the country are providing essential support for students' physical and mental health," said Afterschool Alliance Executive Director Jodi Grant. "That support is more important than ever, as the pandemic has taken a real toll on many students' well-being. We are thrilled that so many Lights On events this year are showcasing the healthy habits afterschool programs instill in children and youth, which can last a lifetime."
Governor's Proclamation 2022
Governor Gordon Proclaimed Lights On Afterschool Day in Wyoming.
Governor Mark Gordon has proclaimed Thursday, October 20, 2022 as Lights On Afterschool Day in Wyoming to illuminate the importance of afterschool in the Equality State.  
In the Governor's Proclamation, he emphasizes the state's commitment to quality afterschool to provide safe and engaging learning experiences, support working families, and build stronger communities.   
"Afterschool and summer learning programs in Wyoming offer enriching activities that not only spark kids' interests, they provide a place where caring adults help youth grow their resilience." Director, Michelle Sullivan stated. "Now more than ever, young people need places where they can learn relevant and practical topics like STEM, entrepreneurship, and financial wellness."   
By celebrating Lights On Afterschool, states and communities across the country are committing to engaging families, schools and community partners in advancing the welfare of our children and ensuring the lights stay on and the doors stay open for all children after school. 
For every child in an afterschool program in Wyoming, three more are waiting to get in. Before the COVID-19 pandemic, 14,719 students were enrolled in afterschool programs, while 43,240 were waiting for an available spot.   
Sullivan noted, "Programs are seeking partnerships with more schools, businesses, and community organizations to meet the needs of kids and families today. The Wyoming Afterschool Alliance is working to build those bridges." 
Find youth serving organizations and other content-specific resources across Wyoming using WYAA's new interactive afterschool map: wyafterschoolalliance.org/interactive-map.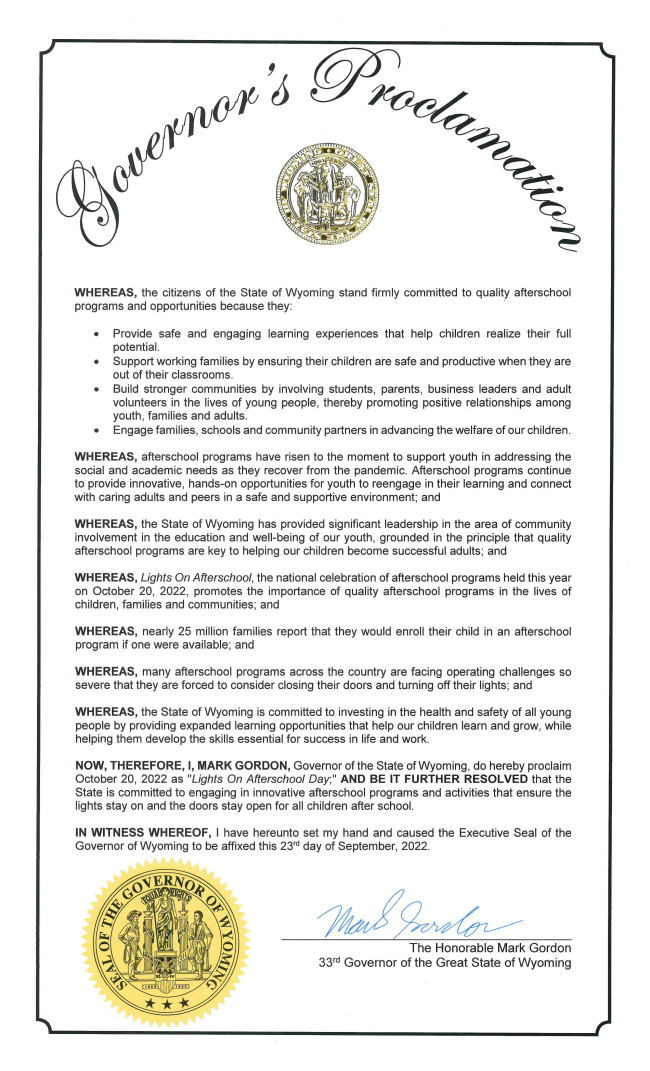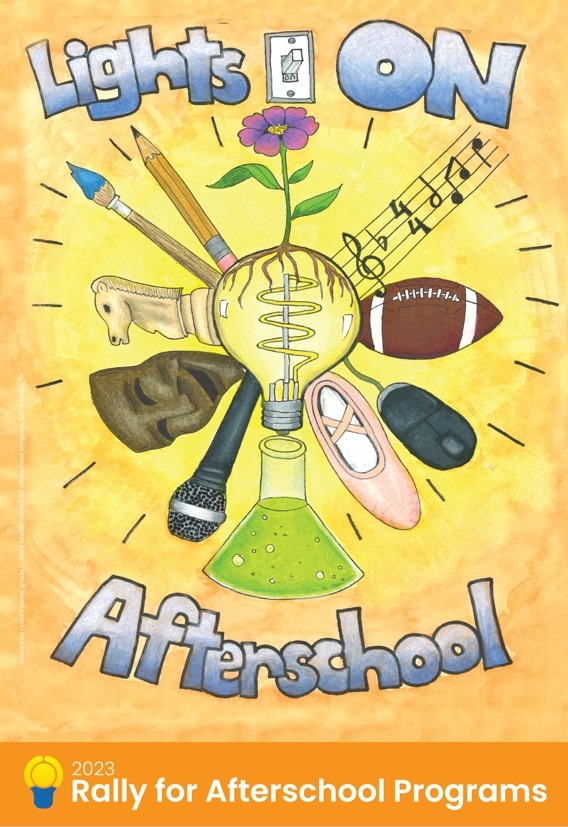 Mission: The Wyoming Afterschool Alliance is a statewide network working to create the conditions for young people to reach their full potential. We are a priority fund of the Wyoming Community Foundation.