Lights On Afterschool
Lights On Afterschool will be celebrated on Thursday, October 20, 2022.
In America today, 7.6 million children are alone and unsupervised after school. Afterschool programs keep kids safe, help working families and inspire learning. They provide opportunities to help young people develop into successful adults.
Lights On Afterschool was launched in October 2000 with celebrations in 1,200 communities nationwide. The following year 3,600 events took place. Today, more than 8,000 Lights On Afterschool rallies are held annually, attracting 1 million Americans and media coverage nationwide.
Lights On Afterschool is a project of the Afterschool Alliance, a nonprofit organization dedicated to ensuring that all children have access to quality, affordable afterschool programs. Former Governor Arnold Schwarzenegger has served as Chair of Lights On Afterschool since 2001.
The Afterschool Alliance salutes the many Lights On Afterschool partners and programs who make this event a success, in particular the After-School All-Stars, Boys & Girls Clubs of America, 4-H Afterschool, Junior Achievement, the 21st Century Community Learning Centers, Young Rembrandts, and the YMCA of the USA. Learn more and find resources at afterschoolalliance.org.
Governor's Proclamation
Governor Gordon Proclaimed October 28, 2021 as Lights On Afterschool Day in Wyoming.
Governor Mark Gordon has proclaimed October 28, 2021 as Lights on Afterschool Day in Wyoming. Launched in October 2000, Lights On Afterschool is the only nationwide event celebrating afterschool programs and their important role in the lives of children, families and communities. The effort has become a hallmark of the afterschool movement and generates media coverage across the country each year. 
The effort has become a hallmark of the afterschool movement. WYAA Director Michelle Sullivan stated, "By celebrating Lights On Afterschool, communities are committing to engaging families, schools and community partners in advancing the welfare of our children and ensuring the lights stay on and the doors stay open for all children after school."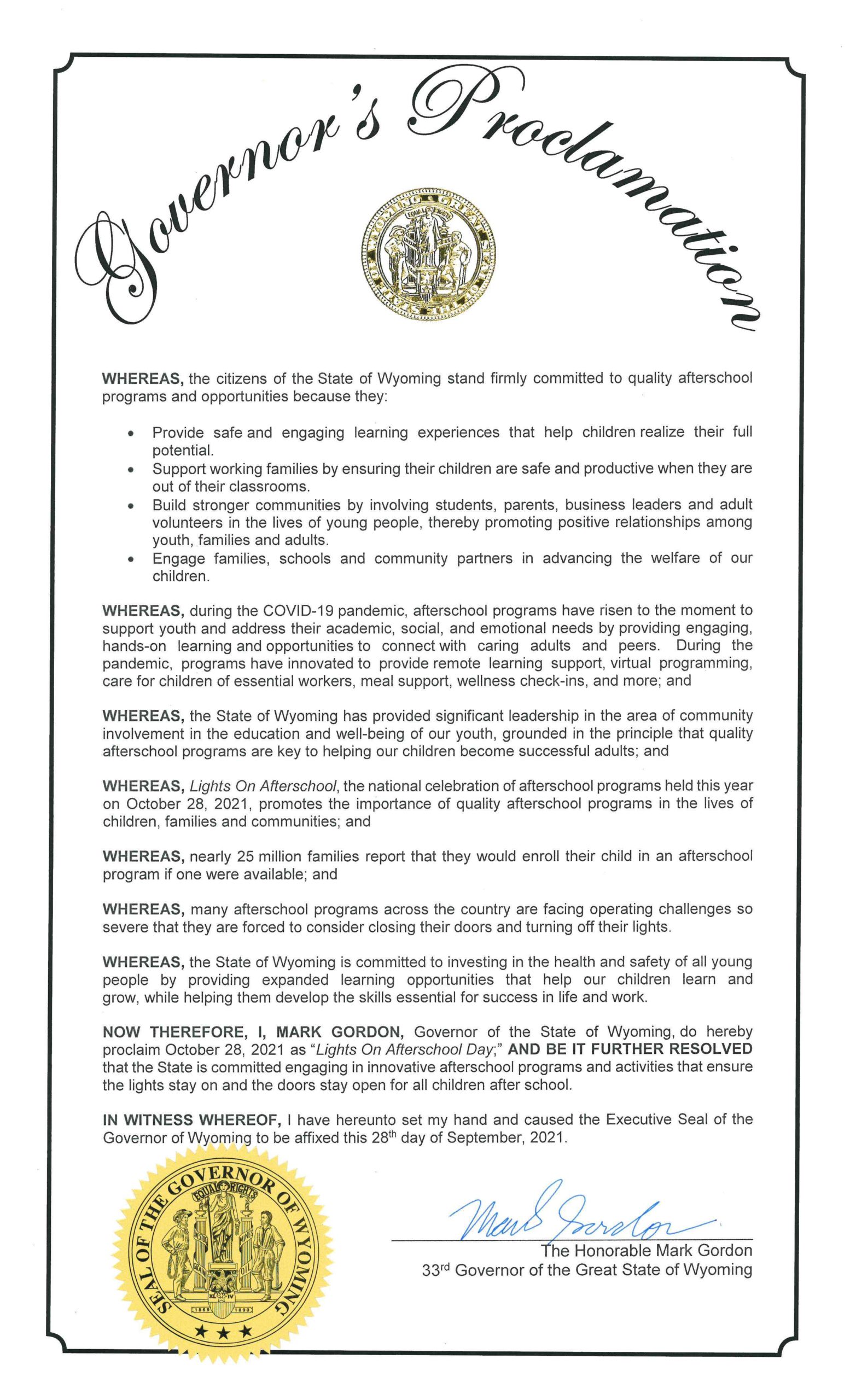 Mission: The Wyoming Afterschool Alliance is a statewide network working to create the conditions for young people to reach their full potential. We are a priority fund of the Wyoming Community Foundation.