WYOMING YOUNG ENTREPRENEUR INITIATIVE
YOUNG PEOPLE ARE WYOMING'S MOST IMPORTANT NATURAL RESOURCE.
Wyoming kids are not just about Wyoming's future, we want to cultivate their abilities to solve problems today. The Wyoming Young Entrepreneur Initiative provides opportunities for young people to practice skills and to give an avenue for them to be problem solvers and innovators for Wyoming's future.  Skills such as empathy, the identification of problems, critical thinking, creativity, teamwork and prototyping are developed as a part of the practice of entrepreneurial thinking. The Wyoming Young Entrepreneur Initiative is made possible by a grant from the Charles Stewart Mott Foundation intended to promote innovation and an entrepreneurial mindset for youth in Wyoming. 
TELLING THE STORIES OF WYOMING'S YOUNG ENTREPRENEURS
Do you know a young entrepreneur working in Wyoming? Let us know!
Young people across the state are innovating, building, and exploring new solutions to problems through entrepreneurship. WYAA wants to connect with and learn from them about their experience. By learning about their needs from the experts, WYAA will have an opportunity to stand with and elevate these youth as well as build resources and tools to help them along their paths. Use the simple online form and share it with others who might want to share stories of innovators in their communities! For more information, contact Emily Vercoe, emilyv@wycf.org.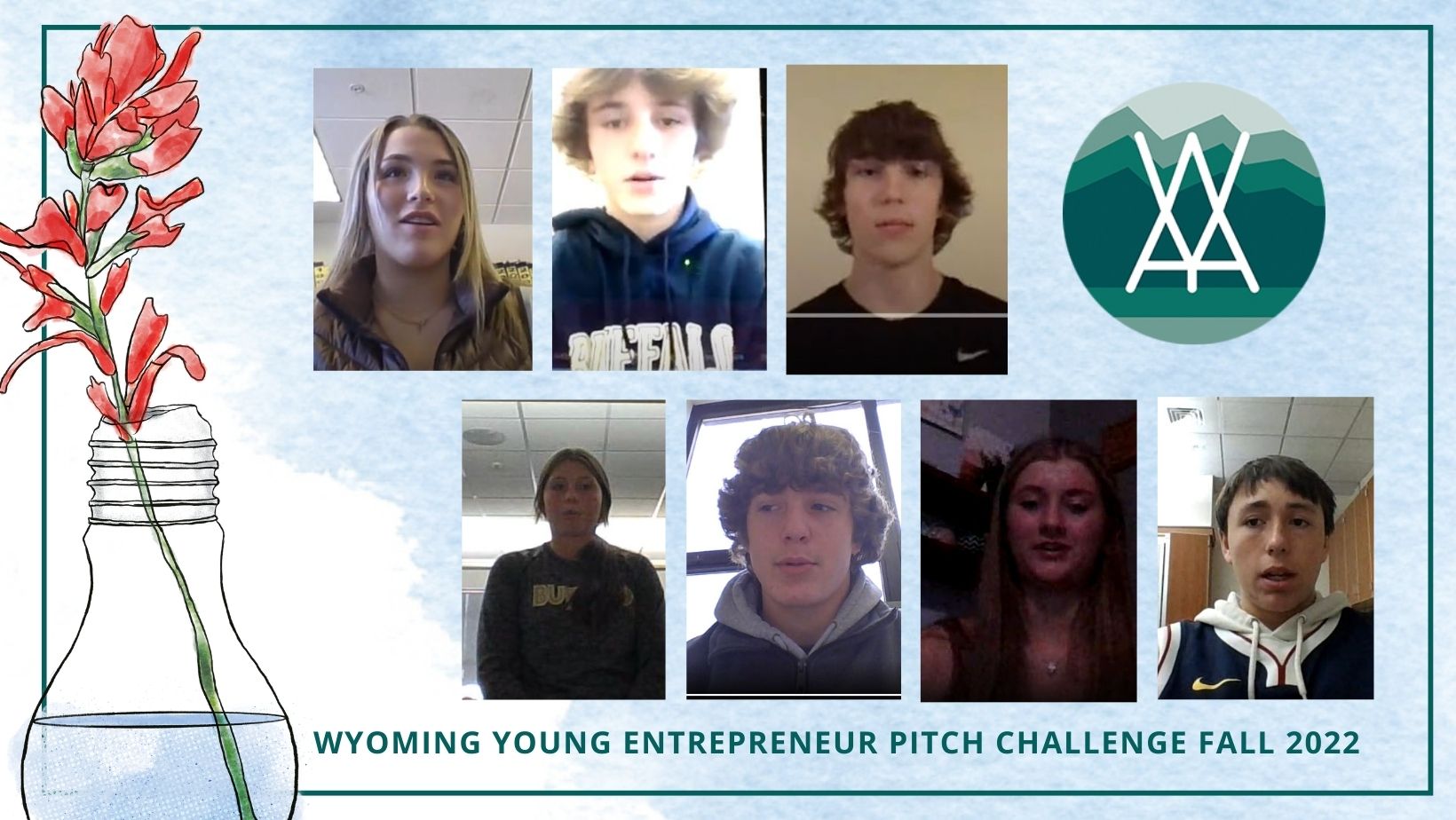 WYOMING YOUNG ENTREPRENEUR PITCH CHALLENGE
WYAA believes that entrepreneurship is about more than starting a business. Entrepreneurial thinking is developed through practicing skills such as creativity, curiosity, the growth mindset, empathy, problem solving, and embracing failure. The Wyoming Young Entrepreneur Pitch Challenge began in the summer of 2020 as a contest for young people across the state to promote their ideas for goods and services that benefit communities and or the environment.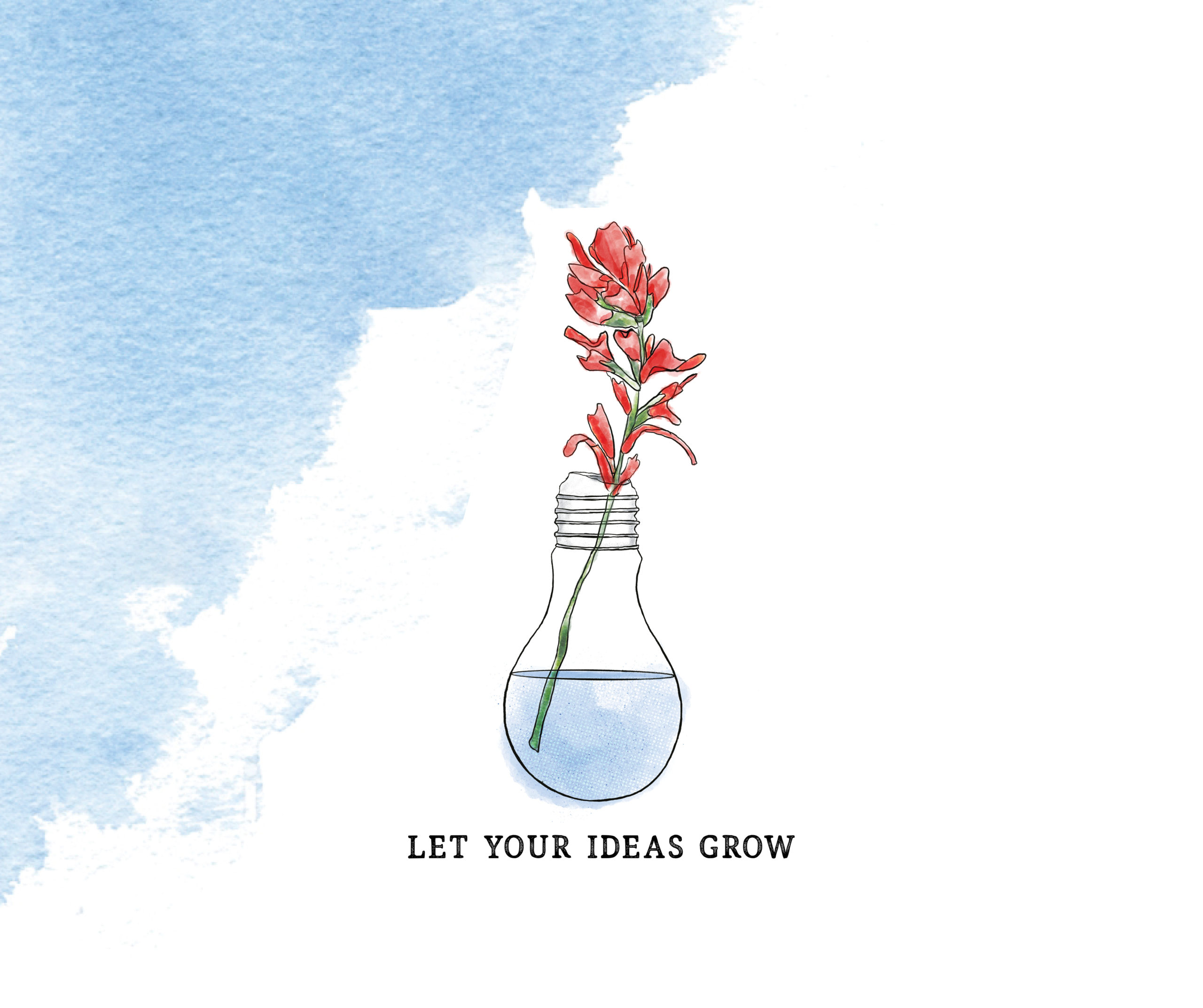 WYOMING CELEBRATES ENTREPRENEURSHIP WEEK – 2022
The Wyoming Afterschool Alliance was proud to celebrate Entrepreneurship Week with an official proclamation by Governor Mark Gordon on Wednesday, February 16, 2022. The proclamation stated that Laramie County Community College, IMPACT 307, the University of Wyoming, and the Wyoming Afterschool Alliance are dedicated to advancing education and training for future entrepreneurs across the State of Wyoming. And that in 2006 the United State Congress designated this week so that the people of the United States are reminded of the contributions of entrepreneurs and so that educators are encouraged to reflect on how entrepreneurship education can improve the performance of their students. 
Photo from the Governor's Office (l-r): Jeff Shmidl, LCCC Interim Program Director, Business & Finance; Joan Evans, Wyoming Afterschool Alliance Consultant; Carole Boughton, LCCC Pathway Coordinator, Business & Accounting; Minden Fox, LCCC Instructor, Marketing/Business, School of Business, Agriculture & Technical Studies, Governor Mark Gordon, Fred Schmechel, Interim Director, IMPACT Laramie; and Joe Schaffer LCCC President.
National Entrepreneurship Week will be held February 11-18, 2023.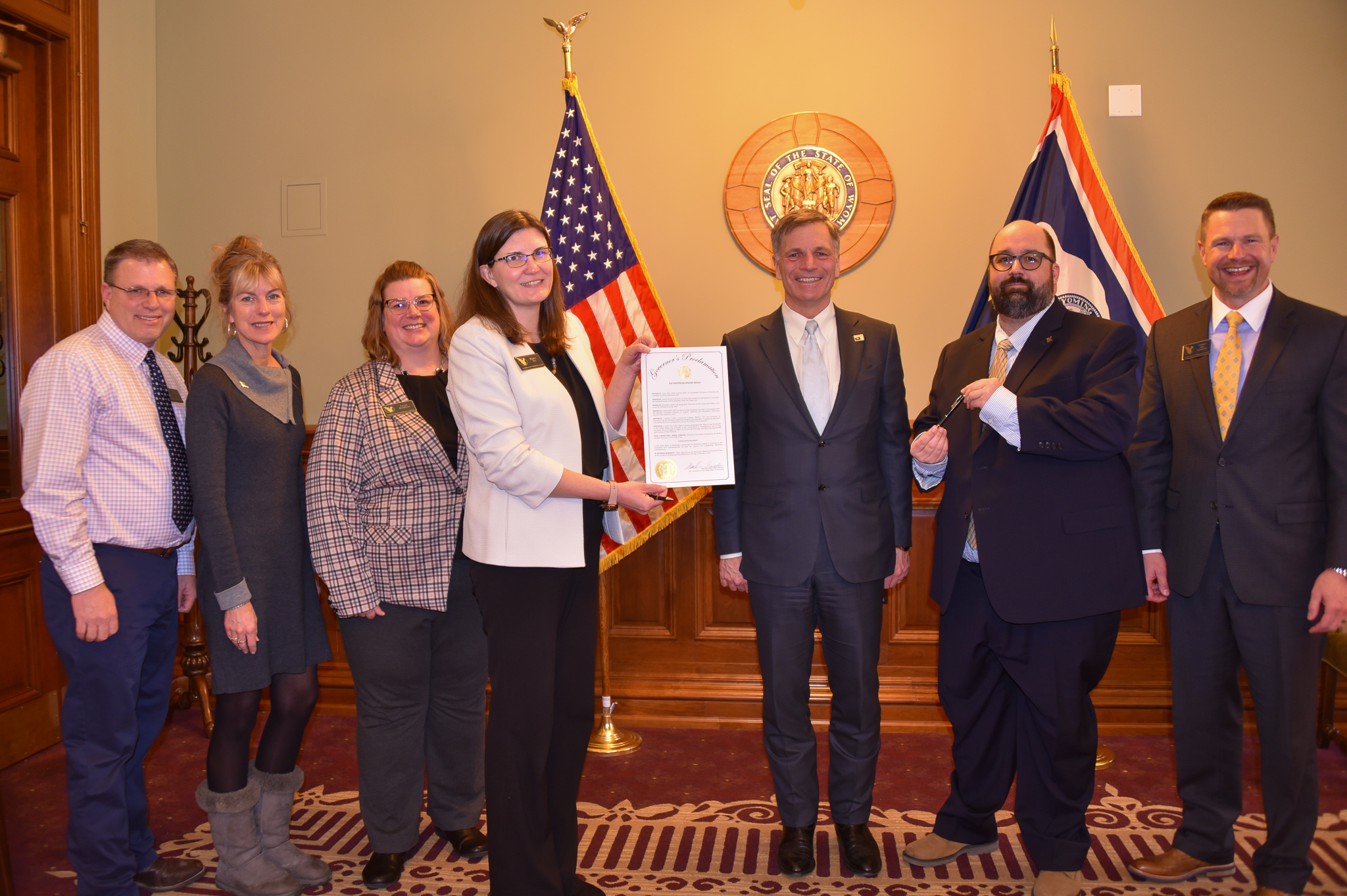 ENTREPRENEURSHIP AND STEAM LEARNING 
One element of the Wyoming Young Entrepreneur Initiative is the Million Girls Moonshot. Just as the original moonshots of the 1960s and '70s united the nation behind a common goal and dramatically advanced scientific achievement, the Million Girls Moonshot aims to create a national movement to change the trajectory of women and girls in STEM.
Entrepreneurship and STEM go hand-in-hand by helping young people apply creative thinking to become problem solvers. In fact, VentureLab calls it "ESTEAM."
The Million Girls Moonshot provides an extraordinary opportunity for afterschool programs in Wyoming to make an enormous impact on the lives of all our youth, and particularly our girls. The future economy of our state and our nation will rely heavily on the STEM fields, and afterschool programs are uniquely situated to help prepare our youth for those career opportunities. Learn more at wyafterschoolalliance.org/million-girls-moonshot.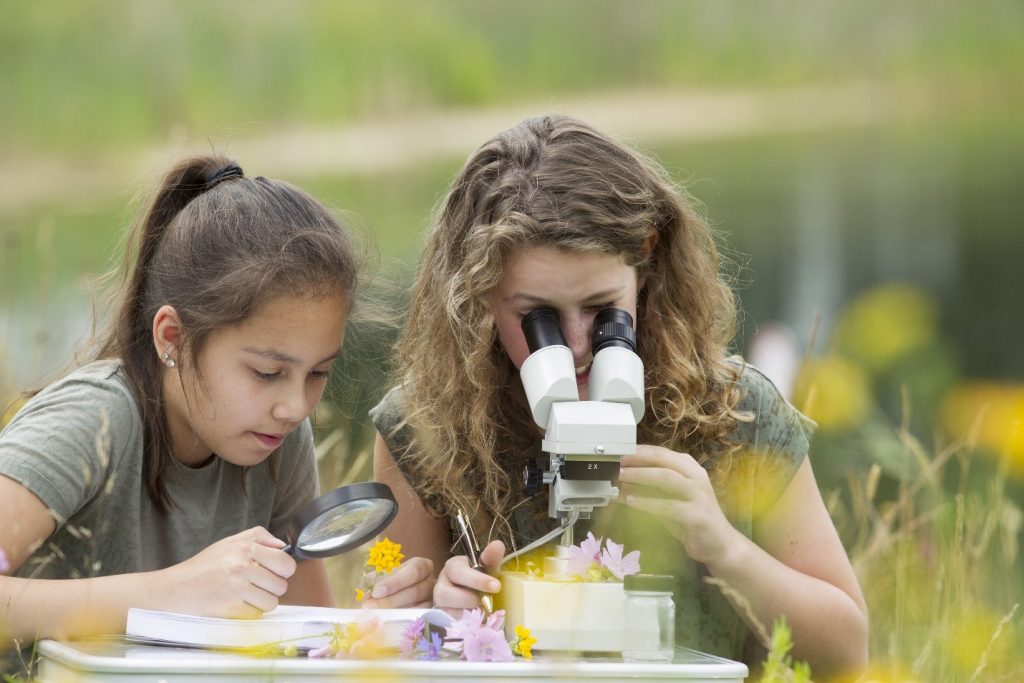 Mission: The Wyoming Afterschool Alliance is a statewide network working to create the conditions for young people to reach their full potential. We are a priority fund of the Wyoming Community Foundation.