Fall 2022 PITCH CHALLENGE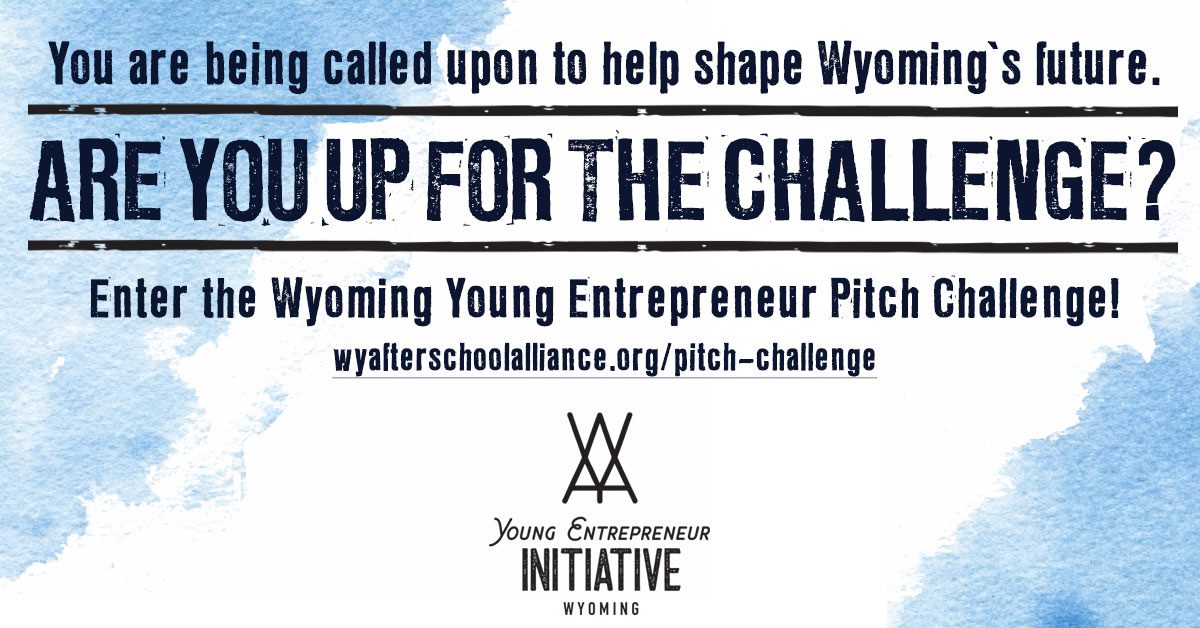 Fall 2022 WYOMING YOUNG ENTREPRENEUR PITCH CHALLENGE
Interested in joining young entrepreneurs across the state pitching their ideas for a better Wyoming? Here's how:  
The Wyoming Young Entrepreneur Pitch Challenge is a contest for young people across the state to promote their ideas for goods and services that will benefit communities and or the environment. We are looking to celebrate the state's social innovations and innovators! 
To get involved, youth will develop and present a short video pitch that describes their solution to a problem or need in their own community or state and submit it to the challenge.
There is a set of simple activities to help youth learn creativity, problem solving, critical thinking, and presentation skills at wyafterschoolalliance.org/pitch-challenge-modules. These activities can guide a class, club, or afterschool program through the entrepreneurship process. In addition to activities, mentoring is available to any group or individual upon request. 
The Pitch Challenge invites youth into a dynamic conversation about shaping the Wyoming they want to see now and in the future. It provides resources for developing a mindset of entrepreneurial thinking and possibilities and teaches workforce readiness skills, whether or not youth become entrepreneurs.
Eligibility
Applicant must be between the ages of 6 & 18 on December 15, 2022 and reside in the state of Wyoming. 

Applicant will enter the contest in the group that corresponds to their age at the time of entering the contest. The three cohorts are: Ages 6-9, 10-14, or 15-18. 

Applicant may apply individually or work in teams.

Video entries must be no longer than 90 seconds. We recommend that entries be not less than 45 seconds. 

The deadline is 5:00pm on Wednesday

,

November 30, 2022

.

Submissions may be uploaded at any time. 
Permission and Media Consent
Applicant must give consent to all photographs, audio recordings and/or Zoom video recordings taken of him/her, and all Wyoming Young Entrepreneur Pitch Challenge work presented to Young Entrepreneur Institute.

All media recordings become the property of the Wyoming Afterschool Alliance and may be used by Wyoming Afterschool Alliance and the Young Entrepreneur Institute for educational, instructional, or promotional purposes in print, broadcast or electronic media formats now existing or in the future created. This includes but is not limited to the video entry submission. There will be no compensation for the use of any photographs, audio or video recordings or any other media.
Submission
Wyoming Young Entrepreneur Pitch Challenge entries must be submitted via Startup Tree by 5:00pm on Wednesday, November 30, 2022. 
Judging
Participants will complete an entry form and submit a video, from 45-second to 90-seconds, to the pitch website portal. Applicants who submit incomplete entry forms, and entries that do not meet the requirements under the rules, will be disqualified.
Submissions Will be Reviewed and Judged According to:
The compelling hook or introduction to an innovation

Presentation quality

Uniqueness

Proposed solution to a community  or state need

Potential impact 
Notification
Winners will be announced and acknowledged via email and at wyafterschoolalliance.org/pitch-challenge.
Note: WYAA reserves the right to update these rules at any time. It is ultimately the responsibility of Wyoming Young Entrepreneur Pitch Challenge applicants to stay current with Wyoming Young Entrepreneur Pitch Challenge Rules and Regulations.
This initiative is made possible by a grant from the Charles Stewart Mott Foundation. The grant is intended to promote innovation and an entrepreneurial mindset for youth in Wyoming.
WHY ARE PITCH CHALLENGES SO GREAT?
WYAA invites your afterschool program, class, or club to participate in pitch challenges to think of a product, business or social solution that could make a difference to your community or to Wyoming. 
Mission: The Wyoming Afterschool Alliance is a statewide network working to create the conditions for young people to reach their full potential. We are a priority fund of the Wyoming Community Foundation.