Fall 2022 PITCH CHALLENGE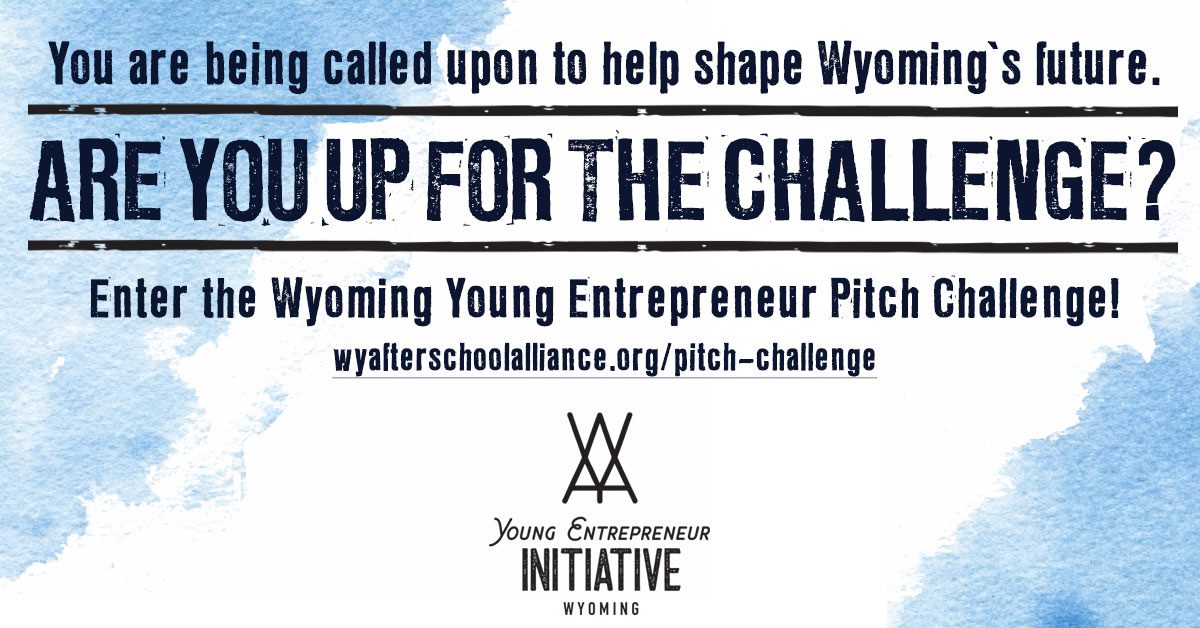 Fall 2022 WYOMING YOUNG ENTREPRENEUR PITCH CHALLENGE
The Wyoming Afterschool Alliance announced the winners of the Wyoming Young Entrepreneur Fall Pitch Challenge on Friday, December 16. The project is intended to provide an opportunity for youth to solve problems for today and build skills for their futures. "Young people in Wyoming are natural social innovators," commented Program Associate Emily Vercoe. "They are engaging in their communities today by asking questions and proposing solutions to improve the lives of their friends and neighbors. Developing these skills into an entrepreneurial mindset will help them prepare for the future." 
Through the Wyoming Young Entrepreneur 2022 Fall Pitch Challenge, WYAA invited young people to promote their ideas for a product or service that could benefit their community, the environment and/or the state of Wyoming. Judges evaluated entries according to their compelling hook or introduction to an innovation, presentation quality, uniqueness, the proposed solution to a community or state need, and potential impact. Three winners from each age category were selected (listed below in alphabetical order) and the "Spirit of Wyoming" award was granted to an entry that exemplified interest in community improvement. Cash prizes will be awarded to each of the winners to provide seed money for the businesses. 
Age Group 15-19 

Cooper Harness, The Braket Pocket

Marshall Peters, The Phone Lock

Cole Rasmuson, Sports House

Age Group 10-14

Naevi Morrison, Drive In 

Ethan Rabou, Life Skills School

Katie Rice, Light-Ski

Spirit of Wyoming Award

View the pitches on YouTube: Click Here
The volunteer judges were University of Wyoming College of Business student, Tanley Andersen; Rawlins Downtown Development Authority (DDA) Project Coordinator, Sondra Dent; Wind River Startup Challenge principal investigator Kyle Trumble; Wyoming Business Council's entrepreneur Development Manager, Taylor Vgnaroli; and Wyoming Future Business Leaders of America (FBLA) Student President and Niobrara High School student, Larkin Williams.
"We are grateful to have a terrific partnership with Impact307 who has supported our efforts for a number of years now," stated WYAA Director Michelle Sullivan.  "We have had the opportunity to work with wonderful interns and the StartupTree platform has been invaluable in working with judges across the state. We're also grateful that wonderful teachers, including Kami Kennedy in Buffalo, who advocates for the power of practicing entrepreneurship." 
"Educators in Wyoming play a vital role in helping young people explore their interests," noted Emily. She continued, "Entrepreneurship is about more than starting a business. Entrepreneurial thinking is developed through practicing skills such as creativity, curiosity, the growth mindset, empathy, problem solving, and embracing failure." 
Since the summer of 2020, WYAA has used pitch challenges to invite youth into a dynamic conversation about shaping the Wyoming they want to see now and in the future and provides resources to grow important workforce readiness skills, regardless of whether they become entrepreneurs. 
"It is inspiring to see the variety of entries that spoke to authentic western living, interest in repurposing secondhand products to make them affordable to their classmates and to avoid waste, and creating opportunities for families and youth to spend time together," said Emily. 
Leaders in afterschool are joining together with educators, workforce leaders, and community stakeholders to create a bolder vision for learning. The Wyoming Young Entrepreneur Initiative and the Pitch Challenges offered vital pathways for engaging young people as partners in this work. 
CONGRATULATIONS TO THE FALL 2022 PITCH CHALLENGE WINNERS!
Three winners from each age category were selected  and the "Spirit of Wyoming" award was granted to an entry that exemplified interest in community improvement.
PITCH CHALLENGE RESOURCES
WHY ARE PITCH CHALLENGES SO GREAT?
WYAA invites your afterschool program, class, or club to participate in pitch challenges to think of a product, business or social solution that could make a difference to your community or to Wyoming. 
Mission: The Wyoming Afterschool Alliance is a statewide network working to create the conditions for young people to reach their full potential. We are a priority fund of the Wyoming Community Foundation.