CREATING A STEAM MINDSET
Creating a STEAM mindset in young children may seem daunting, especially if there's an end goal in mind. But instead, focus on the experience rather than the outcome, working together to ask questions about the world around us, learning together through observation and experimentation.
Science does not have to be intimidating, and in fact, many children already possess a scientist's curiosity and only need an adult to guide them.
"To make science accessible, be curious about your environment. Test things, ask questions and learn from the answers to create more questions and investigations," Julia Skolnik, program director at the Franklin Institute and principal investigator at Leap into Science explains.
The Wyoming Afterschool Alliance, along with the Wyoming State Library and the Wyoming Alliance for Environmental Education, offers STEAM training across the state to libraries, afterschool organizations and others through Leap Into Science, a nationwide program that  integrates open-ended science activities with children's books for children ages 3-10 and their families. Leap Into Science has the goal of empowering educators to offer programs in community settings like libraries, museums and out-of-school time programs to engage children in science, technology, engineering, arts and math.
"There are four strategies that are pretty universal to create that STEAM mindset," Skolnik said. "They are asking questions, encouraging scientific thinking, cultivating rich dialogue and making connections."
When an educator focuses their energy on those things, rather than thinking about teaching specific concepts or principles, the STEAM mindset takes hold.
"Rather than thinking that, 'My kids must understand that balance is about equal weight,' how to create a resilient and curious learner is to have them look at two things that don't balance and ask them questions," she said. "Ask, 'Why do you think those things don't balance? What can you add to make them balance?' Focusing on questions and not answers, and having students become critical thinkers — those are the characteristics that we promote for our children and adults."
Paige Bredenkamp, the school library consultant with the Wyoming State Library, said that the Leap into Science program allows for rural communities to host trainings with materials and books and curriculum, helping librarians and after-school programs understand how to create a STEAM mindset with very little prior knowledge.
"The program was designed to help rural areas or people who don't usually get these kinds of resources because of cost, and it's good for Wyoming," Bredenkamp says.
Educators often hope to create lifelong learners, and to do that, children must be encouraged to ask questions, to experiment and to follow their curiosity.
"We want children to develop an interest in science, which promotes good literacy skills, and hopefully they will carry that through as they grow," Bredenkamp says. "And hopefully, as they go through school, they develop an interest in science. They learn that science is all around us — it is not only in the science classroom. You can be a scientist all through life by asking questions, experimenting and exploring. The goal is to build open-minded adults with good literacy skills and an interest in the world around them."
Sheridan County Fulmer Library children's librarian Michelle Havenga recently took a Leap Into Science training, and regularly incorporates STEAM concepts into her story time.
"We are doing a light and shadows storytime today," Havenga says. "I've been a children's librarian for 39 and a half years, and I think it's really great to be able to incorporate new things. Science is so important, and we need to have kids growing up that can problem solve, observe and think about things in a scientific way."
Bredenkamp said the program is not highly content-focused, but instead about activating interest in science in a non-formal environment.
"It is basically about modeling by the adult. It's asking children, 'What do you think is going to happen next? Or, what do you think will happen if we do this?'" Bredenkamp says. "It also exposes children to a vocabulary, and encourages kids to use that vocabulary in order to create rich dialogue."
During one storytime, Havenga says, "velocity" became the word of the day.
"It is not like, 'Ok, we are now going to learn about velocity.' No, it's getting things out and asking questions," she says. "We use scientific terms, and kids love words. They want to know what words mean. Velocity becomes the big word, and it's something as simple as, 'Snails go at a certain velocity.' So we talk about how that is a measure of speed. The words and the explanations are right there, and it's an incorporated part of things."
There are people for whom science is not a comfortable thing, but Skolnik says one of the best responses adults can give a kid when they ask a question is, "I don't know, let's find out together."
"Adults don't need to have all the answers. It's better for the kids to actually investigate and find their own evidence than ask an adult. Get in that habit of not giving answers, but flipping the question back on the learner. They will come up with really great ideas," Skolnik says.
Think of yourself as the guide, she says, to help learners think on their own. And with adults as a guide, children have endless opportunities to grow.
"Children have dreams. They can be anything they want," Havenga said. "We as the adults, we need to make sure that we have that enthusiasm too."
This story is the fist in a series by Carrie Haderlie.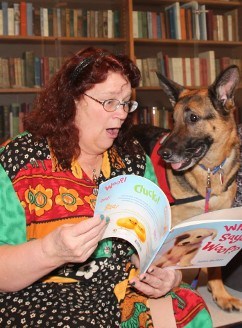 Photo Information: Michelle Havenga is the Sheridan County Fulmer Library Children's Librarian.
Learn More: The Million Girls Moonshot supports the efforts of the Wyoming Women's Foundation, inspiring the next generation of innovators and helping girls gain skills that unlock pathways to self-sufficiency. Learn more at wyafterschoolalliance.org/million-girls-moonshot.
ABOUT THE MILLION GIRLS MOONSHOT:
The Million Girls Moonshot seeks to re-imagine who can engineer, who can build, who can make. It will inspire and prepare the next generation of innovators by engaging one million more girls in STEM learning opportunities through afterschool and summer programs over the next 5 years. Learn more at milliongirlsmoonshot.org..
Mission: The Wyoming Afterschool Alliance is a statewide network working to create the conditions for young people to reach their full potential. We are a priority fund of the Wyoming Community Foundation.