Young Entrepreneur Spotlight
Saratoga craftsman wins Young Entrepreneur Pitch Challenge award
Leatherwork has been a part of Levi Hatch's life for about as long as he can remember. His family owns and operates Hatch Tack from their home on the TA Ranch, where they handcraft custom leather goods, often made-to-order. 
Levi, the oldest of four children, learned the craft when he was starting school. 
"I started practicing in kindergarten, and I'm going into eighth grade," Levi said. "I really started making stuff in second grade, when I made a wallet for my mom. It kept getting bigger, and now I do rifle scabbards." 
Levi earned the 4-H Craftsman Award for his Wyoming Young Entrepreneur Initiative entry,  "Handcrafted Rifle Scabbards," which he creates in conjunction with Hatch Tack. The Wyoming Young Entrepreneur Initiative is hosted by the Wyoming Afterschool Alliance, and encourages young people to explore and practice entrepreneurship, developing critical thinking and problem-solving skills. The Pitch Challenge for Winter 2021 provided a platform for young people across the state to apply these skills, and Levi got involved through 4-H. 
Hatch Tack is a Platte Valley mainstay, with handcrafted leatherwork for sale at Sweet Marie's and Koyote Sports in downtown Saratoga. They also have an online store, and Levi has traveled with his mom, Siara Hatch, to places like Texas for the WRCA Finals. They bring along belts, spur straps, saddle bags and more. 
"My husband and I started the business just after we got married," Siara Hatch said. "We got married in December and that January, I started learning." 
Siara said her husband Cordell first learned the craft fixing saddles in college, and he built the family's first saddle bearing the Hatch name when she was pregnant with their second baby. They now have four children, and each one has something to work on.  
"Everybody has a little project that they do, and they each earn a little money from it," Siara said. Her oldest three children are boys, the fourth a girl. 
"The boys go to football camp, and they have earned enough to pay their own way," she said. 
Levi learned of the Wyoming Young Entrepreneur Pitch Challenge through his participation in Saratoga's Finest 4-H Club. At the end of each year, 4-H members put together a record book of all the things they are working on, Emily Haver, Carbon County extension educator. She thought Levi would be perfect for the Pitch Challenge while reading his. 
"The record book holds all the things they are doing, with the goals they set and their experiences and project plans, pictures and a 4H story," Haver said. "I read a couple stories, and they had turned what they are passionate about, their 'spark,' into money-makers. I was reading those thinking about the Pitch Challenge." 
She reached out to the Hatch family, and Levi agreed to enter the next challenge. 
"He's a quiet, reserved kid, but I met with him every week for a month," Haver said. "I loved it, seeing his personality come through." 
Levi and Haver met several Fridays on Zoom to work on his entry, focusing on critical thinking, creativity, teamwork and prototyping — all practices of entrepreneurial thinking.  
"I enjoyed it, and I know he did too," Haver said. "He is very responsible, and it was neat. It's hard to find one-on-one opportunities as the 4H coordinator for the whole county. You don't always have time, and so I really appreciate this opportunity. I am so glad that he won. He deserves it." 
Levi said his plan is to continue growing his business while saving for college or football camp or whatever might come his way. He recommends the Pitch Challenge, but said that other kids might want to start out with a smaller 4-H project and ease their way in.  
"When I started with 4-H, my first year I did leathercraft. I did a couple of spur straps, which are harder than wallets. Then I did belts and more spur straps, and started getting my stuff to state," Levi said. Now he and his family routinely travel to ranch rodeos to offer their products for sale.  
WYAA Director Michelle Sullivan said that the Alliance is proud to encourage young people as they develop valuable skills to help them excel today, and into the future. 
"Young people are truly making a difference in their communities. It was wonderful to see the diverse ways they answered the challenge to develop an idea for a business innovation or social solution," Sullivan said. "It demonstrates that we develop wealth not only by growing our economy but through growing our connection to community." 
For Levi, work will continue in his family's workshop on the ranch. 
"I can get away from my brothers," he smiled. "I pick my designs, or depending on what the client wants, I will make whatever they order." 
This story is part of the series by Carrie Haderlie. Published August 12, 2021.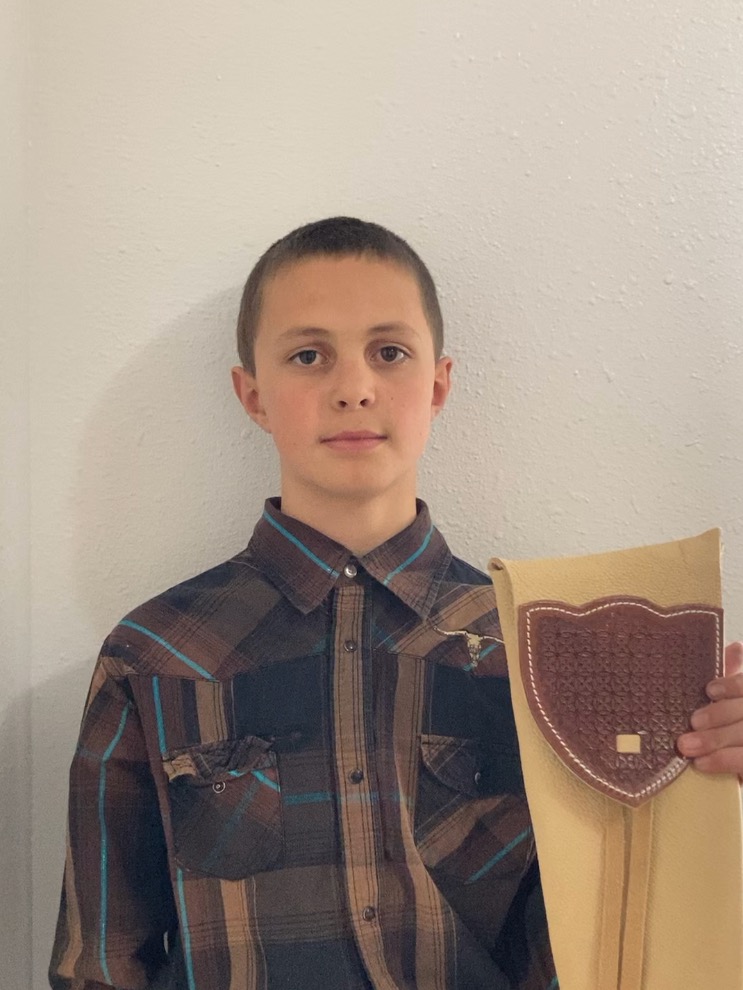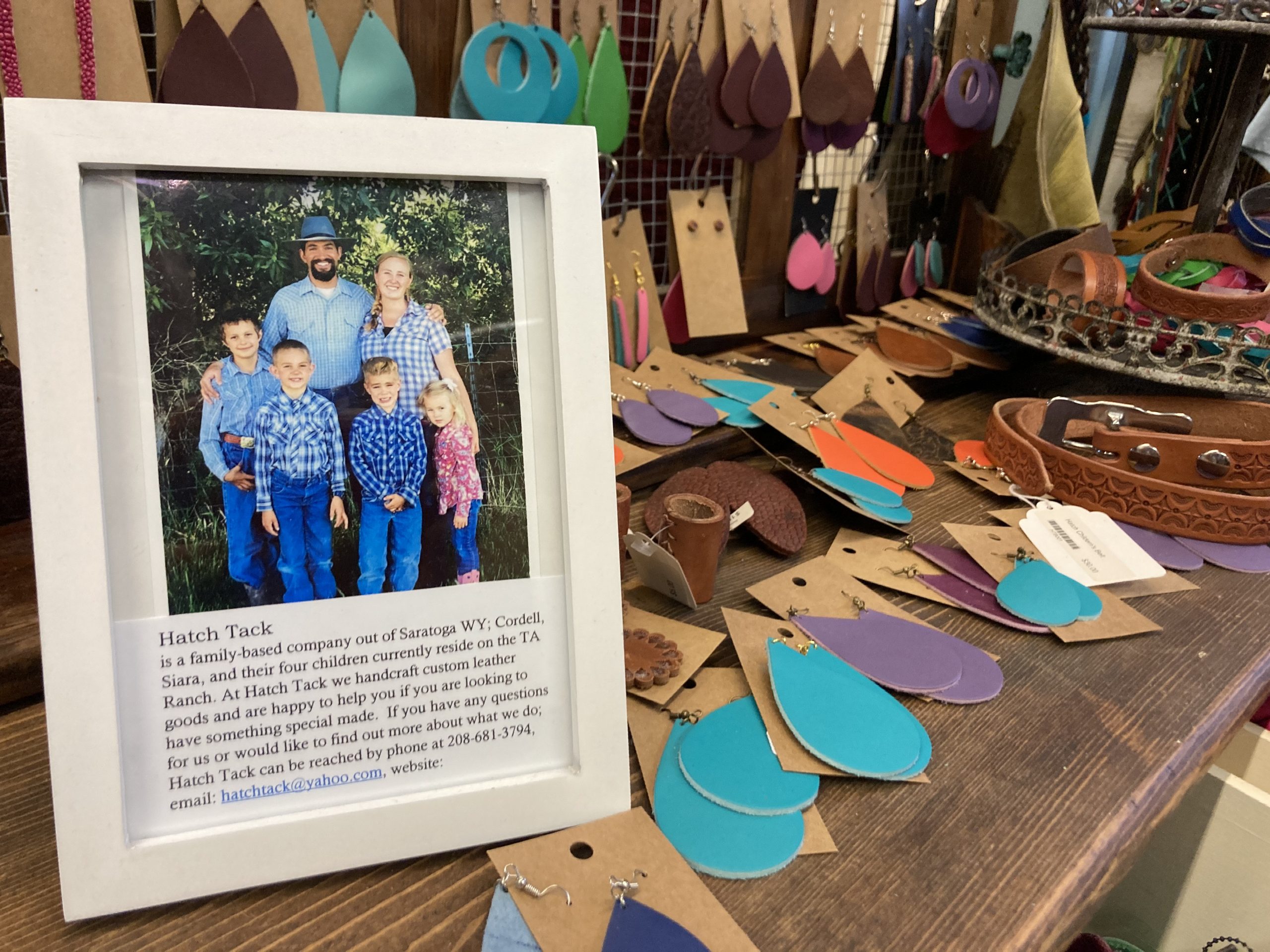 Photo Information: Levi Hatch displays his products. PC: Carrie Haderlie
ABOUT THE WYOMING YOUNG ENTREPRENEUR INITIATIVE:
Wyoming kids are not just about Wyoming's future, we want to cultivate their abilities to solve problems today. The Wyoming Young Entrepreneur Initiative provides opportunities for young people to practice skills and to give an avenue for them to be problem solvers and innovators for Wyoming's future.  Skills such as empathy, the identification of problems, critical thinking, creativity, teamwork and prototyping are developed as a part of the practice of entrepreneurial thinking. Learn more at wyafterschoolalliance.org/wyoming-young-entrepreneur-initiative.
Mission: The Wyoming Afterschool Alliance is a statewide network working to create the conditions for young people to reach their full potential. We are a priority fund of the Wyoming Community Foundation.